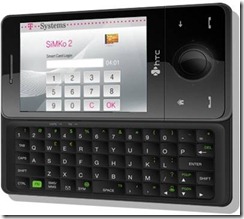 AreaMobile.de reports that the German government has decided against the use of RIM's Blackberry due to data security issues, choosing rather to use a proprietary secure data system, SIMKO 2,  installed on Windows Mobile smartphones from HTC.
These smart-phone, which has also become known as "Merkel-phone", offers a completely secure solution for mobile data communication. The Federal Office for Information Security (BSI) put SiMKo through strict security checks and recommended the complete solution for the security rating VS/NfD (classified – only for internal use), suitable for use in Federal Government Office.
All data travels via VPN, and features such as WIFI and Bluetooth are disabled.  The ability to install unauthorized applications are also blocked.
Stephan Maihoff elaborates: "In view of the security hazards, it's surprising how often smartphones are used for mission-critical decisions as a matter of course. In a business environment, insecure devices present major risks for enterprises." Maihoff is a member of a select team of experts from T-Systems, IT security specialist certgate and VPN manufacturer NCP. Working hand in hand, the partners have leveraged HTC hardware and Microsoft Windows Mobile software to develop a high-security smartphone called SiMKo.
"We didn't simply add on security, we built it into the system," states Maihoff. The resulting solution comprises software, a smart card from certgate for encryption, and a digital identity, which is loaded onto the device by authorized personnel at a security center.
Through a close collaboration with HTC some version of TouchFlo3D is still in place, but this simply allows the use of the web browser (through the VPN client) and the making of phone calls.
The solution will be rolled out to 350 government agencies, 350 federal agencies, starting with 13 federal ministries, including German Chancellor Angela Merkel.