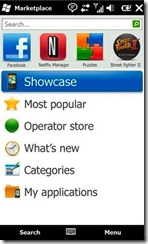 We have complained quite loudly about the limited selection in the regional markets, and have reported on rumours that Microsoft is set to address this.
Now we have further confirmation, unfortunately from only from a forum comment, that Microsoft is set to address the issue:
From the Dutch Mobiliz forum we get this comment, supposedly from Maarten Sonneveld, Business Group Lead, Mobile Communications Business at Microsoft, Amsterdam Area, Netherlands.
Dear Vincent,

We regret your first experience with Marketplace and can you comment me suggestions. I've been raised in the Marketplace Product Team at our headquarters. I have to take issue with you that it has limited number of apps in the Netherlands are one result. This has more to do with our choice in the Marketplace application (which is at first only on the phone is) directly to the catalog of Dutch started and while we are so dependent on the ISV / developer apps Dutch submit.

I believe that you still have the application in any case in English might introduce. Then you already reach many countries. And I hope you do it for the NL market would submit, given the relatively high number of users of Windows phones.

It is also true that we're somewhere in November / December with Phase 2 of the PC interface as well Marketplace on the phone to provide a so-called geo selector so the user can also choose from the catalog of other countries. I would like Dutchman is the catalog of the U.S. can choose and buy my apps there. I think the problem of possibly translation costs to be solved.

I'll let you know what the reaction from the product team.

Sincerely,

Maarten Sonneveld

Microsoft Netherlands
I expect the regional Windows Mobile managers experience the issue much more acutely than Microsoft's US reps, which leads them them to be more forthcoming with the news. Certainly my own request for information was only met with typical Microsoft stonewalling:
Microsoft is committed to providing customers with a variety of quality applications through Windows Marketplace for Mobile. We are working closely with ISVs and developers to build out our catalog, and in fact increased the number of available applications by 40% in the first 72 hours of availability. We will also continue to gather customer and ISV feedback as we update and improve the Windows Marketplace experience through regular updates.
We look forward to this problem being partially solved soon, but as I mentioned earlier, being able to search the full marketplace is the ultimate solution.
Thanks Developer for the tip.