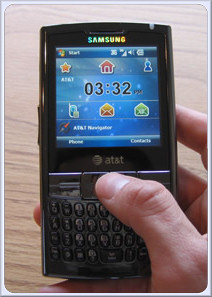 PocketNow.com has put up a great, indepth review of the Samsung Epix, and I must say, after reading it, my feelings towards the smartphone has changed significantly.
While before I had felt Samsung had not done much more than deliver a raw Windows Mobile smartphone, it seems they have made a number of Palm-like customizations to the device. One example is the ability to launch any application by using a combination of the function key and a key on the keyboard, which should help expert users really fall in love with the device. Disk mode is also available for the device, making access to the storage card easy with computers you do not have a partnership with. Samsung has also included a number of today screen plug-in options and themes.
Of course Brandon did find some fault with Samsung. While the device appeared bug-free, it lacks features such as a great full-html browser such as Opera Mobile 9.5, a prerequisite these days to be a truly competitive device.
Brandon concludes his 4 page review by saying:
OVERALL IMPRESSION
I really like this phone. With a bit of customization and added software, it can be a true winner. It's a great combination of touchscreen versatility and one-handed usability that a device like the Palm Treo Pro just doesn't have. If you're on AT&T and are looking for your next WinMo phone, this is a great choice – but expect to spend some time and perhaps money filling in the missing blanks that Samsung left.
 
Pros:
Cons:
Terrific one-handed usability
Great performance
Above average battery life
Optical cursor works great
Solid photo quality
Easy dialing from the Today screen
Many programmable soft keys
Includes MS Voice Command
External microSD slot
WiFi/aGPS/HSDPA
CONS
No compelling software additions
Optical mouse can cause problems (see Wishes above)
Where is the soft reset hole??
Contains a lot of java-based trialware
No ambient light sensor
Feels thick
No better browser included
Proprietary jack for audio/charging/syncing
Camera lacks a flash
No FM radio
No case/screen protector/extra stylus/headphones
No flash on the camera
No soft reset hole
The PocketNow review is a must-read if you are considering this device (or even its main competitor, the Palm Treo Pro). Read the full review here.