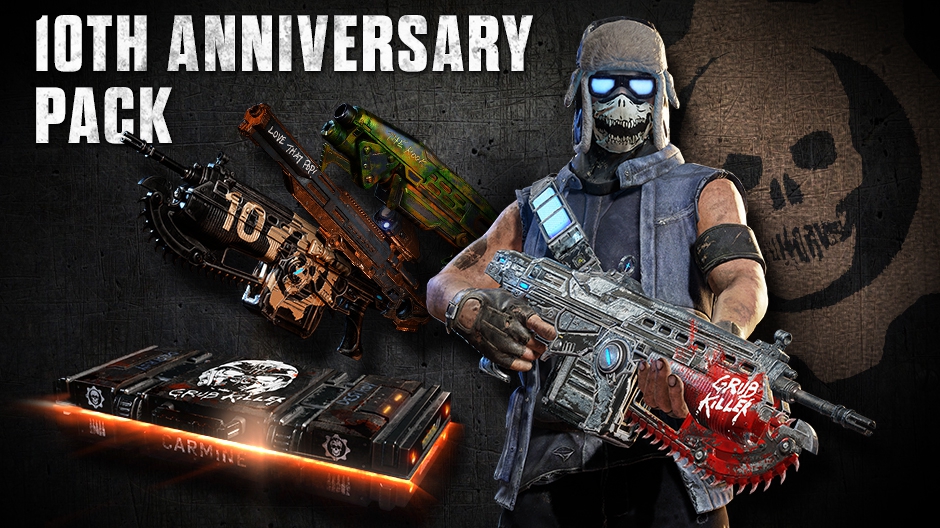 November 7th marks 10 years since the release of the first Gears of War title back in 2006, and the Coalition is announcing "10 Years of Gears", a series of celebrations to mark the 10 year anniversary for Gears of War. This will include a 10th anniversary Gear Pack, which has Gary Carmine as a playable character, a trio of weapons themed to the previous Carmine brothers, commemorative anniversary weapons and emblems to collect as you play. The 200 Credit pack contains one "10 Years of Gears" customization item, one "10 Years of Gears" Emblem or bounty, and a random card from the Gears of War 4 Launch Series of Cards.
As far as In-Game Events, players will be able to enjoy:
One Shot, One Kill – a sniping-focused mode that spawns you only with a Longshot, now is available with the EMBAR on the battlefield for pickup

Gnashers-Only King Of The Hill –  a gib-filled carnage of objective-driven, close-quarters combat where your  Gnasher is your only friend as you battle to control the hill.
The Coalition will also be holding a Game with Developers event next week so that fans of the game and developers from The Coalition can play with one another online. In addition to this is the official launch of The Coalition Army, and a variety of competitions over the next month, including opportunities to win the 'Bodied' community weapon skin and a whole lot more.
Topping everything off is a new update to the Gear Pack system, which provides a more consistent Credit earning experience (in modes like Horde, Versus, and the Bounty System), and a revamping of a number of gears packs to provide more ways to acquire customization content.
You can read more about the "10 Years of Gears" here.