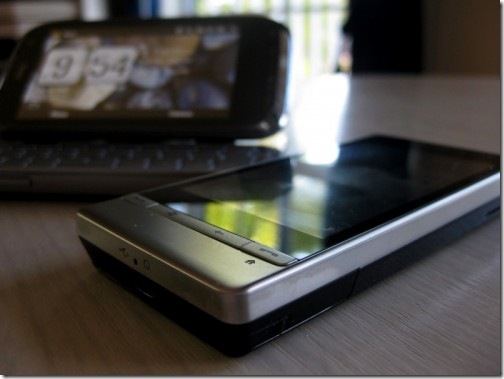 Here at WMPoweruser.com its easy to think of the Touch Diamond 2 as yesterday's news, but of course the device has not yet reached North America yet, but will eventually, courtesy of AT&T, so it worth it to still keep an eye on this stylish smartphone.
GearDiary has published a review of the unlocked version of the device and seem to be relatively taken.
They liked the styling, found the screen sensitive, found it to be fast and multi-tasking well (our own experience also) and also were very impressed by the new version of TouchFlo3D.
They also lauded the battery life of the device, calling it "the best battery life out of any Windows Mobile handset I've tested." Again, this was our experience also. They found the 5 megapixel camera to be unremarkable, but found their biggest problem was text entry.
Despite liking the performance and the battery life, typing is the biggest problem I found with the Diamond2. The Touch HD doesn't have a problem with this, as it's large 3.8" display means the on-screen thumboard is quite big and easy to use, but with the much smaller display on the Diamond2 it becomes quite tricky.

It would seem that the answer to that problem is the Touch Pro2, but I don't really consider that a solution since the Pro2 is a much bigger, heavier, and expensive device, despite sharing almost the same specifications.

So I'm left in a bit of a pickle. The Diamond2 is a good phone, it is fast, it is small, light and has a gorgeous display, and combined with excellent battery life it is pretty much a winner. However, if you are heavy on the text entry and have sworn off the stylus, then a Touch Pro2 or even a Touch HD may be the better choice.
This is likely the dilemma AT&T buyers will face – a small device for easy pocketability or a gigantic device with arguably the best mobile keyboard ever.
Read the full review here, which includes many photos and screenshots.