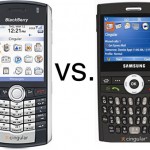 Gartner has released their Q1 2008 Smartphone numbers, and as usual it makes for interesting reading.
Total smartphone sales were 32.2 million, accounting for 11% of total mobile phone sales. Nokia sales were up 25% at 14.5 million, with a market share at 45%, but Symbian marketshare was down 6% from 63.5% to 57.1% YoY.
RIM achieved spectacular growth, going from 8.3% to 13.4% YoY, growing sales by 2.3 million.  This gives RIM, according to Gartner, the second place in the Smartphone market, passing Windows Mobile.
According to Gartner, Windows Mobile shipments grew 0.92 million, and only 0.2% YoY, to 3.86 million, for a market share of 11.8%, placing it in 3rd place. These numbers however conflict with numbers released by Microsoft itself, who claimed to have shipped 4.3 million smartphone licenses and having shipped 1.9 million more. 
This discrepancy can be explained by Gartner's definition of a Smartphone as "A large-screen, voice-centric handheld device designed to offer complete phone functions while simultaneously functioning as a personal digital assistant (PDA)."  In contrast it has another category, called Wireless Handhelds which they define as wireless PDAs, mainly used for data apps and typically are operated with two hands. This would exclude many popular devices such as the AT&T Tilt, T-Mobile Wing and Sprint Mongul.
Palm shipments were up 0.1% from 464 thousand to 657 thousand for a 2% market share.
Linux shipments strikingly declined from 3.38 million to 2.9 million, and market share declined from 13.6 to 9.1%
Apple iPhone shipments, at 1.7 million, constituted 5.3% worldwide smartphone marketshare, or  0.6% of the global mobile phone market. Apple has previously said they were aiming for a 1% share of the world market for all mobile phones.
Read more here.