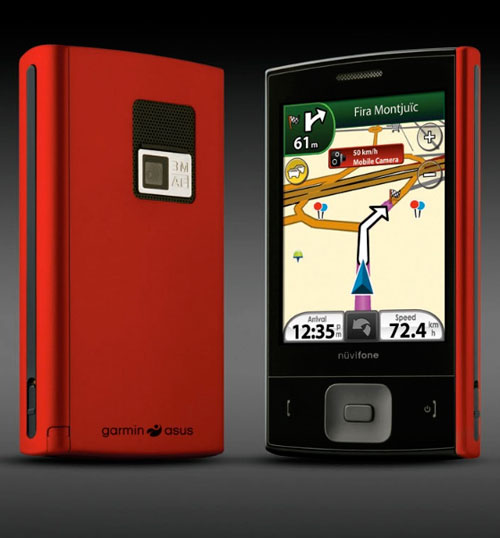 The full specs of the Garmin-Asus Nuvifone M20 is below.
 Of note is that the device is a tri-band GSM and dual-band 3G, meaning there is different versions for each continent, which is not exactly ideal for a navigation device. The G60, their Linux version, is Quadband GSM and tri-band 3G, a much better feature set. Also of note is that the device does not feature a 3.5 mm headphone jack, rather passing audio via the miniUSB socket. This is rather a shame, as an improved media player is touted as one of the advantages of the device. The battery is also rather small for a GPS device.
On the plus side, the device is pretty small and thin. Despite what the pictures suggest, it is actually about the same size as the HTC Touch Diamond and only slightly thicker at 12.8 mm (the same thickness as the iPhone 3G).
Similar to the Touch Diamond, it also only features built-in storage without the ability to expand this via microSD card, but at least does not only come in a 4G version, but 8GB also.
The full specs are below.
APAC/EU: 3G 900/2100; 2G 900/1800/1900
NA: 3G 850/1900; 2G 850/1800/1900
Other Connectivity: 802.11 b/g WLAN; Bluetooth 2.0+EDR; mini USB 2.0
OS: Microsoft Windows® Mobile Professional 6.1
Dimensions: 95.3 x 52.5 12.8 mm
Weight: 99g (including battery)
Display: 2.8″, VGA 640 x 480, 65K, TFT with touch lens
Display Resolution: 640 x 480
Camera/Photos: 3MP camera, JPG format with auto-focus and geotagging. View photos in JPG/PNG/GIF/BMP format
Flash Memory: 4 GB or 8GB
Audio: Built-in microphone & speaker; Ring tone supported formats: MP3, AAC, AAC+, WMA, WAV, and AMR-NB
Headphone Jack: mini-USB
Video Playback: MPEG4/H.264/H.263/WMV @ 30fps VGA
Video Recording: MPEG4/H.263 @ 15fps QVGA; Streaming Audio/Video
Messaging: SMS / MMS / Email / MSN / Push Email (POP3/SMTP/IMAP) / Microsoft Exchange Email
Internet: OPERA browser, HTML, WAP 1.2.1/2.0
Sync: ActiveSync® for Outlook contacts calendar, media and documents
Productivity: Document viewing: Word, Excel, PowerPoint, PDF
CPU: Qualcomm 7200A 528MHz
Battery: 920 mAh Lithium (replaceable)
Talk Time: 3G: 3 hours / 2G: 2.8 hours
Others: Accelerometer