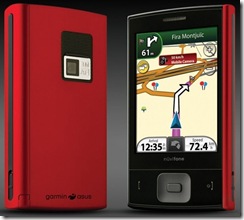 The Garmin Asus M20 has launched in Taiwan today on the CHT network there, but of more interest to our western readers is the news that Garmin Asus executives hinted that the device "is destined for AT&T in the US".
Interestingly the device's branding will vary from region to region, depending on the brand strength of each partner, with the device being marketed by Garmin in Western Europe and US, and Asus in regions like Eastern Europe and Asia.
Unlike the Linux-based G60, which is being marketed first and foremost as a GPS device with phone and internet functionality, the M20 will be promoted as a Smartphone, but with highly integrated navigation functionality.
The Garmin Asus M20 is currently retailing in Taiwan for about $545 without contract.
No specific launch date for Europe or Asia was revealed.