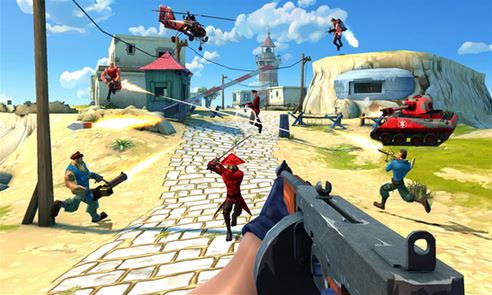 Gameloft is on a roll! They have released several new games in Windows Phone Store in the past few days. Today, they have released Blitz Brigade. Blitz Brigade is a multi-player FPS which 120 levels of game play.
Game Description:
GIVE AN ONLINE BEATDOWN!
? Up to 12 players can battle at the same time
? 5 classes: Soldier, Gunner, Medic, Sniper, Stealth
? Control the battlefield in Domination mode
? Frag everyone in sight in Deathmatch
? Use 3 different vehicles for a tactical advantage
? Over 100 weapons, each made for a specific class
? Unique taunts and kill phrases for each character
? Voice Chat to plan in real time with teammates

HONE YOUR KILLER SKILLS IN TRAINING MISSIONS
? Complete 120 unique missions
? Learn to master each class's specialized skills
? Pilot a helicopter and rain death from above
? Hop into a Tank to steamroll the enemy
Download it here from Windows Phone Store for free.