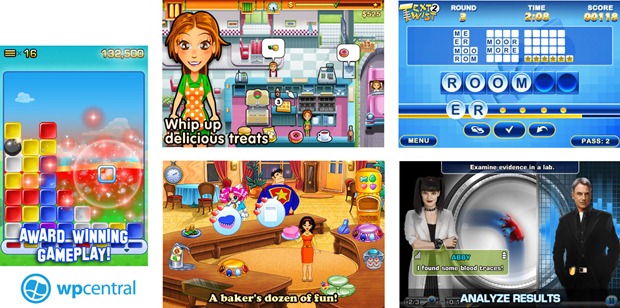 GameHouse, the developers of titles such as Doodle Jump, Tiki Towers and Sally's Salon has announced 5 new Xbox Live titles for Windows Phone 7.
The games are:
Collapse!: GameHouse's very first PC game comes to Windows Phone. It's a match-three puzzler in which a stack of blocks rises from the bottom of the screen. Players frantically tap groups of three of more colored blocks in order to eliminate them. Customizable characters, multiple gameplay modes, and bosses make for a full-featured package.
Delicious!: Like GameHouse's Sally's Salon Luxury Edition, Delicious! is a time management game. Players control Emily as she serves customers at a variety of food venues. Each location features unique minigames, keeping the gameplay fresh and tasty.
See more after the break.
TextTwist 2: A word jumble game in which gamers receive a selection of letters and try to find all possible words that those letters can spell.
Cake Mania Main Street: A time management game with four totally distinct locations: a bakery, a flower shop, a fast food joint, and a sushi house. Wacky problem customers like vampires and pirates keep the pressure on.
NCIS: The Game from the TV show: Help the cast of the popular crime drama solve several different cases by completing various minigames.
No time scale for the release of the games have been announced.
Via WPCentral.com