Despite the weird name, SpellShipTactics is a fantastic mix of chess and shooter games, combining logic and action into one unique experience.
Overall Score: 4/5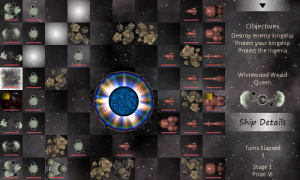 If you like games where you not only have to shoot, but also think, then check this game out. It has quality gameplay, good presentation, and stellar lasting value.
Gameplay: 4/5
The game starts off like chess, but you're guiding your pawns and queen and king through space instead. And instead of simply killing the enemy chess piece, when your ship is in attacking range, you enter a dog fight where you actually control the ship and pilot it through space, shooting at your enemy. Any of the surrounding ships will also join in on the fight, so you have to use your logic to ensure you aren't outnumbered. The controls for piloting your ship can sometimes be annoying, but otherwise the game is pretty great!
Presentation: 4/5
The music soundtrack is awesome, although you will keep hearing the same songs eventually. The presentation is good, but unfortunately the sense of motion while piloting your ship isn't very realistic since the stars in the background do not move when your ship moves.
Lasting Value: 5/5
You'll get tons of lasting value from this, thanks to the three different classes you can choose to play as. Each class is very unique, which makes the experience worth playing through again as a different class. You will probably get over 12 hours of gameplay or more!
Title: SpellShipTactics
Price: $3.99
Publisher: Slithy Tove Studios