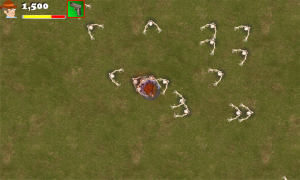 Call of Duty: Zombies from a top-down perspective? That basically describes Rise of the Mummies.
Overall Score: 3/5
Rise of the Mummies is a fun free game, but it could be improved if it had different level designs instead of the same old big rectangle.
Gameplay: 3/5
The goal of Rise of the Mummies is to survive as long as possible by shooting off the swarm of mummies trying to kill you. As you progress through the game, you'll collect different power-ups, giving you better weapons, more health, faster movement, and even a temporary dummy. The controls work pretty well. You have two joysticks, one on the left side of the screen and one on the right, just like any typical shooter. While defeating the flood of mummies is fun, the game could be far better if it included different level designs and challenges. It does, however, have a decent variety of enemies that helps keep the game slightly more interesting.
Presentation: 3/5
Like I said, the game could use better level designs, and that includes the visual aspect. Being locked in a square rectangle simply isn't that appealing or realistic. Maybe it could be a large mansion? A fenced in jail? The music goes well with the game, and it is Mango enabled, but the visuals bring the experience down slightly.
Lasting Value: 3/5
Rise of the Mummies does have online leaderboards, but there aren't any weekly or daily options… just all time. And, like I said before, if the game had some different level designs, replaying it could be far more fun. Nevertheless, it's free and worth playing once!
Title: Rise of the Mummies
Price: FREE
Publisher: Impera Software