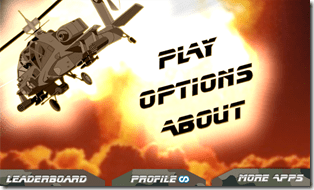 Combat Helicopter is a very funny mini game for in between. It doesn't have very good visuals but it scores with much diversity, which isn't that common for a mini-game.
Overall score: 4/5
The game is pretty funny. The level are varied and you can unlock several helicopters with new functions like rockets or better controls. The levels start very easy but get way more harder then, for example first you just have to avoid crashing the walls, but later there are helicopters shooting rockets at you. Anyways, there's a little disadvantage: You can only unlock quite less helicopters, and when you are very good at this game you will have unlocked all helicopters very fast.
Presentation: 3.5/5
The graphics are not really special and the textures are not really 'the best' (to not say they are bad), but the sounds are good. I personally like that sound when shooting rockets (even if it doesn't sound like a rocket but more like a weapon) and the helicopter itself sounds somewhat realistic.
Gameplay: 5/5
Well, you only have to press 'up' for steering the helicopter (or you tilt your phone if you set that in the options) and fire for shooting, but you have to be very patient when flying trough the several levels, because you have only three lives which can get lost faster as you whish. While flying several obstacles appear, for example blocks or other helicopters (which can both be shot if you have the right helicopter) which can be a real challenge some time – great!
Lasting Value: 4/5
I already mentioned there is a lack of helicopters you can unlock, but the levels are very diversified because they are never the same, which I found good. Well, all in all it's up to you how long you will play this game and how long it's fun for you, but for me personally it is a game I will play a long time as it just doesn't get boring that fast.
The game Combat Helicopter is free here, but has also a paid version which can be found here.