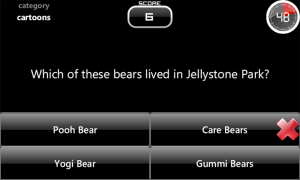 Do you dream of being on a game show? Try out Bomb Quiz.
Overall Score: 3/5
Bomb Quiz can be fun, but it suffers from some presentation and gameplay issues.
Gameplay: 3/5
In Bomb Quiz, you are given a question and four multiple choice answers, and a total of 60 seconds on the clock to go as far as possible. Each correct answer gives you extra time on the clock. If you run out of time, the bomb explodes and your score is recorded. The variety of questions are excellent, ranging from geology to video games, and the game is usually fun to play. However, some of the questions are grammatically incorrect, which makes it tough to play the game. The multiplayer mode is really cool, but the clock is flawed since each player does not have their own clock. With some simple improvements, this could be a lot better.
Presentation: 2/5
The visuals and sound effects are decent, but the game completely lacks the ability to resume where you are. If you need to respond to a text message, your entire game is gone. Also, the bomb explosion animation at the end can be annoying since it takes nearly 5 seconds for it to explode and gets repetitive very quickly.
Lasting Value: 3/5
The multiplayer mode really increases the lasting value of the game. The leaderboards help somewhat, but the online leaderboards are not very useful since there are no weekly or daily categories, and you can't quickly find your own score.
Title: Bomb Quiz
Price: $0.99 (FREE trial lets you play, but not save your scores)
Publisher: NAECOM