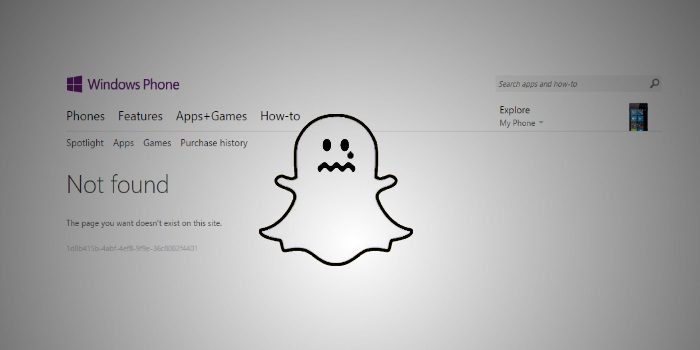 Snapchat, the popular photo messaging service was recently hacked. As a result of this, the company recently started permanently banning third-party app users. Of course, most of the Android and iOS users were not harmed, but Windows Phone users were particularly disadvantaged as there isn't any official app for the service. However, there were some brilliant 3rd party Snapchat apps for Windows Phone – most notably, Rudy Huyn's 6Snap. The 3rd party apps were working pretty well for users, but recently Snapchat started banning more and more Windows Phone users of these apps.
If today you're unable to find 6Snap or any other 3rd party app for Snapchat,  it isn't just you -all  3rd party Snapchat apps, including 6Snap are no longer available on the Windows Phone Store.
Rudy Huyn, developer for 6Snap, tweeted:
6snap has disappeared as well as all snapchat apps on store. I will work closely with Microsoft now to convince snapchat to change its mind

— Rudy Huyn (@RudyHuyn) December 20, 2014
Snapchat hasn't yet announced the company's plans to support Windows Phone users, but surely the company can't ignore the whole  growing Windows Phone community!
We want an official Snapchat app. Now!