We wrote earlier about the possibility of Windows Phone and Windows RT merging to address the need for a easy to use, long battery life, fool proof and differentiated mobile tablet operating system from Microsoft.
A move towards this has been the push to ever larger Windows Phones, and in a blog post on the Windows Phone Developer Blog Microsoft explained that these handsets could become as large as 7 inches, a size that is usually associated with the most popular tablets, with Peter Torr writing:
In theory, future Windows Phone devices might be even larger than this – up to 7" diagonally
However the Windows Phone UI starts making a lot let sense on such a large screen, with the need to increase the density of information presented on the interface, and not just to blow up the current UI.
Fortunately in GDR3 Microsoft has given developers tools to detect the exact physical signs of the screen, allowing them to keep actual content the same physical size independent of the resolution of the screen, as seen in the picture above.
Using these tools developers could even offer a completely different UI on large screened handsets, for example the screen shot below, which shows information being presented on two screens on the normal Windows Phone, but side by side on the large screened Windows Phone.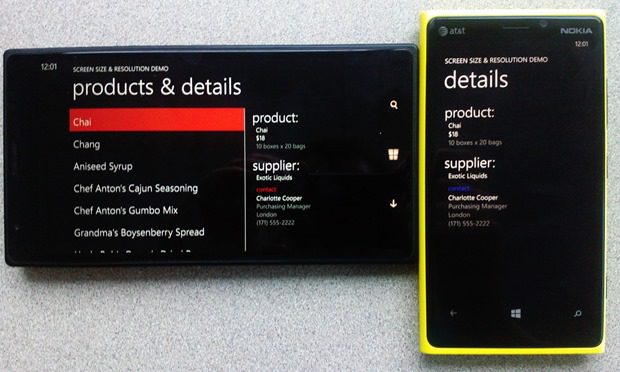 Of course this will require developer support for what will in the short term be a tiny segment of the Windows Phone market, and the pity has been that Microsoft did not lead the way more aggressively in adapting their built-in applications for the large screened Windows phones, besides showing a few more rows in lists and the denser start screen.
Do our readers think Microsoft's push will get uptake from developers, and would you buy a 7 inch Windows Phone tablet over an 8 inch Windows 8 tablet like the Dell Venue Pro? Let us know below.
Via MNB