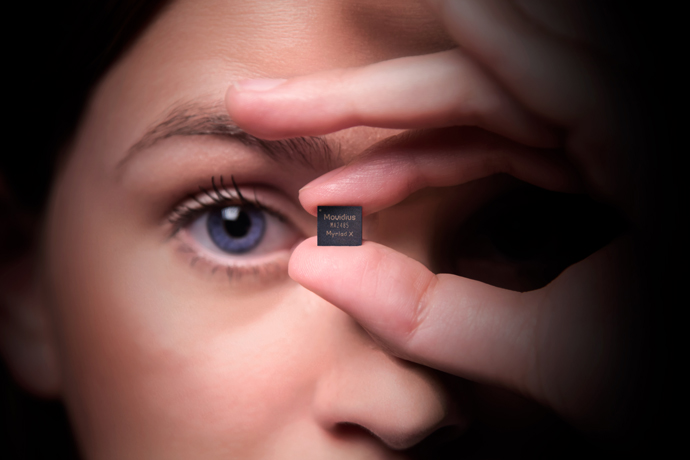 During the Windows Developer Day event yesterday, Microsoft revealed the Windows AI platform which will allow developers to build intelligent apps on Windows 10. One of the highlighted features of WinML APIs is the support for pre-trained machine learning models. Windows ML will efficiently use hardware for any given artificial intelligence (AI) workload and intelligently distributes work across multiple hardware types including CPU, GPU and Intel's Vision Processing Units (VPU).
The Intel VPU is a purpose-built chip for accelerating AI workloads on client devices. Myriad X is world's first system-on-chip (SOC) shipping with a dedicated Neural Compute Engine for accelerating deep learning inferences at the edge. The Neural Compute Engine is an on-chip hardware block specifically designed to run deep neural networks at high speed and low power without compromising accuracy, enabling devices to see, understand and respond to their environments in real time. Microsoft worked with Intel team to add support for VPUs in Windows ML platform.
"Intel Movidius VPU technology will deliver increasingly sophisticated AI experiences for the hundreds of millions of Microsoft users worldwide," said Intel's Remi El-Ouazzane, Intel vice president and general manager of Intel Movidius. "This is just the latest example of how Intel is accelerating the promise of bringing AI from the data center to edge devices through our high-performance, low-power vision processor technology."
"We're excited to work closely with Intel to enable developers around the world to build engaging and magical AI-powered experiences using Windows ML and the Intel Movidius VPU," said Kevin Gallo, corporate vice president, Windows Developer Platform, Microsoft.
Even though we don't have any Windows device in the market with Intel VPU right now, the situation might soon change with the release of Windows AI platform in the coming months. Windows ML and Intel VPU combination will enable personal assistants, enhanced biometric security, smart music, and photo search and recognition in the future PCs.