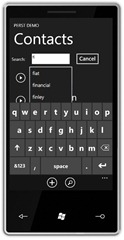 McObject today announced it is offering support for its Perst™ object-oriented, open source embedded database on Microsoft's Windows Phone 7 (WP7) smartphone platform. At present the operating system does not offer persistent database support natively.
The open source software was ported to Windows Phone 7 by APPA Mundi, a Birmingham, England-based consulting firm, who have been offering it since early June from their website.
"Using Perst for .NET, developers using Silverlight can now include true database management system features in their Silverlight applications, including adding persistence to this data by storing it in a container file in isolated storage," said Andy Wigley, an APPA Mundi principal and Microsoft device application Most Valuable Professional (MVP).
McObject have now added the code ported by APPA Mundi to the Perst for .NET distribution available at www.mcobject.com/perst_eval and will now support the platform, effective immediately, McObject CEO Steve Graves said.
Having a fully supported solution for persistent database support on Windows phone 7 is important for enterprise developers investing in business solutions on the platform.
According to McObject business users are a major WP7 target market, with Microsoft says that 90 percent of WP7 target customers use smartphones for business purposes, and 61 percent use their phones equally or more for business compared to personal use.
This business market is precisely where Perst for WP7 will deliver the greatest value according to APPA Mundi's Andy Wigley.
"Consumer applications typically do not have a complex object model. But for anything that is more line-of-business, a database management system (DBMS) greatly helps developers' productivity by supporting local storage, search and retrieval at the device level. Perst for .NET is the only DBMS available for WP7, and will be really appealing for anyone who wants to persist even a moderate amount of data."
McOnject's Perst has am established track record in mobile, with McObject released Perst Lite in 2006, an edition of Perst for the Java ME technology used on BlackBerry. Since then, developers have successfully integrated Perst Lite in commercial and open source software for BlackBerry ranging from mobile customer relationship management (CRM) clients to banking, consumer, healthcare and other vertical market solutions.
The product boasts ACID transactions, database indexes, full-text search, an intuitive application programming interface (API), support for storage on SD cards, and more.
McObject counts among its customers industry leaders such BAE Systems, Siemens, Phillips, EADS, JVC, Tyco Thermal Controls, F5 Networks, DIRECTV, CA, Motorola and Boeing. For more visit www.mcobject.com.