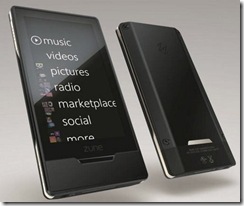 We don't normally link to idiots, but today Daring Fireball brings us this interesting titbit:
In the various demos of the ZuneHD Microsoft spokesmen have made passing remarks regarding applications coming to the new Zune platform.  It was unfortunately not clear if they were talking about simple games like Solitaire, or more complex apps like Crash Bandicoot or Skype.
According to Gruber Microsoft is approaching various iPhone app developers to port their applications to the ZuneHD.
Gruber received an e-mail from an iPhone twitter app developer that said:
He was contacted by Microsoft a few months ago, with an offer to port his app to the Zune in exchange for "a bucket of money". He turned them down, but assumes, as I do, that Microsoft reached out to the developers of multiple popular iPhone apps.
Whether this presaged an open marketplace of applications, or if Microsoft is planning to just launch with a select few great apps in not known, but it is interesting that the claim is that Microsoft has been working on this issue for some months, suggesting this may be a big launch day surprise to spring on the buying public.