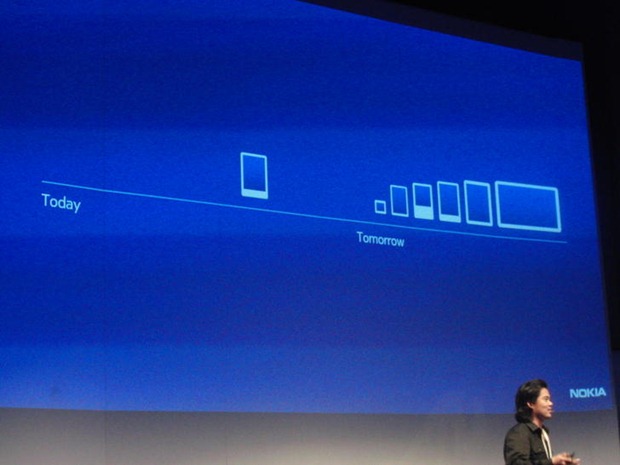 Microsoft may have (intentionally) leaked future design iterations for Windows Phone.
Albert Shum, the General Manager of the Windows Phone Design Studio, showed TechRadar a slide at Nokia World where "tomorrow's" new form factors were shown off.
Besides tablets, the slide seemed to show 4 new form factors – from the left a very small screen design, next a design with very thin bezels all round, which suggests it is button-less, next a design with a very large bottom bezel, suggesting a front-facing keyboard ala Blackberry, next the regular design, and then a small tablet, followed by a large tablet.
Shum said this was  "something we're still working on."  "You want an ecosystem that's not just about having just one or two things; you want diversity," he continued.
"If you do well not just on phone but on PC and on tablet, then your ecosystem can really live and breathe"
No time scale was provided for the arrival of these new form factors, though we could see Nokia pushing for the one with the Blackberry keyboard, as it has been selling a range of devices similarly equipped, and would want to move that design over to Windows Phone.
Do our readers think it is time for more diversity, or should Microsoft work at perfecting their single form factor first, like Apple? Let us know below.
Via techradar.com