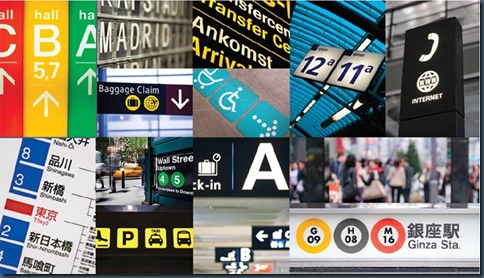 The Windows Phone devblog has a new post up on the development of the Metro design language. Most interesting is the array of signs for transportation – you can really see how clearly their style inspired Metro (I'm looking at that "baggage claim" sign in particular.)
The first interfaces were built on a need to communicate what they were. They were like a desk, but better. They were completely new, so an approach of direct representation was appropriate. Today it's not necessary, and yet, it's the path that most software interfaces seem to continue to follow. We don't need to make an eBook look like a book for people to understand how to use it. The book isn't the cover and binding, it's the images and the text that make the story. With an increasing amount of digital content, we don't have a good metaphor to render anymore – just information, text and images. What do you make a UI look like when it's just information? That's where we go next.
It also has some thoughts on the general evolution of GUIs, and the future of interfaces – though we can hope that this doesn't mean Microsoft are pursuing those gimmicky transparent monitors so beloved of sci-fi. Text is one thing, but a screen displaying images and video ought to show what it's showing, not what's behind it…
Read the whole thing at the Windows Team Blog here.