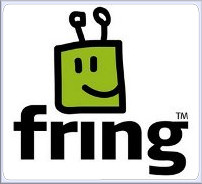 Fring has announced an update to their popular cross-platform IM/ VOIP application. The application, now on version 3.34 contains significant improvements, such as being able to use the ear piece for VOIP calls, something which had been a bugbear for Windows Mobile users for some time.
There are also a large number of other improvements. Fring for Windows Mobile now supports Add-ons – interactive mobile internet apps that sit inside fring, allowing you to access Facebook, receive Gmail notifications and more, all without leaving fring.
In addition Windows Mobile users can send files to all your fring, Skype, MSN & Yahoo buddies, something which has only been possible on the symbian version until now.
The navigation & functionality have been improved with a new 'Go- To menu', Privacy and 'Joystick-In' settings, typing indication and new Add-Ons Management screen.
The application is now also compatible with the Sony Ericsson Xperia x1 and the Samsung Omnia and has earned Microsoft's "Designed for Windows Mobile" certification,
The application is available to to download from fring now.