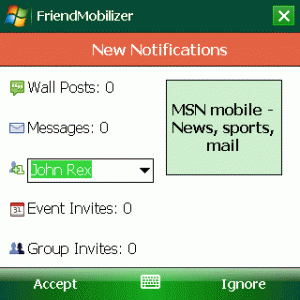 The social networking site Facebook is all the rage these days, neatly supplanting MySpace in online mindshare, but despite a partnership with Microsoft there are still not many native Windows Mobile Facebook clients. You can now add FriendMobilizer to this exclusive list. This software, which gives access to your facebook profile, allows you to:
Get notifications sent directly to your home screen
Set your status
Approve friend requests
View Group/Event invites
Check your wall and inbox
Send your friends messages, pokes, and wall posts
See more screenshots here, or register to download the app from Macrospec here.