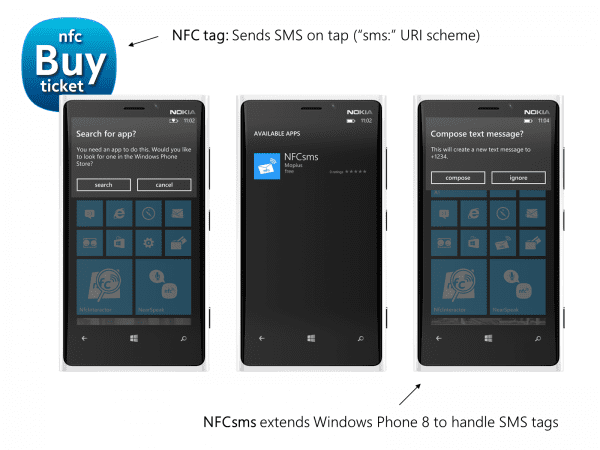 Windows Phone 8 supports NFC tags, but not all the available protocols. Fortunately the new OS is now extensible, based on file extensions and also URI schema.
This has allowed NFC Interactor to create a free app which allows Windows Phones with NFC to respond appropriately to NFC tags which would normally activate the sending of an SMS message, as is common in Europe to access some information services e.g to query bus schedules or through premium SMS even purchase small services, like public transport tickets.
NFCsms extends the Windows Phone platform to enable sending SMS messages from NFC tags and web links.
Installing NFCsms is a seamless experience. If the user taps an NFC tag that contains SMS information, Windows Phone will automatically search the Store for compatible apps – the free NFCsms app will appear and can be installed.
From then on, WP8 is compatible to SMS tags. Tapping an NFC tag will show the correct "Compose text message?" prompt. If the user accepts, the phone's messaging app will be opened immediately, allowing to review the number & contents and to send the message. The NFCsms app never shows any user interface.
You can download the free NFCsms app for all NFC capable Windows Phone 8 devices from the Windows Phone Store.
Read more at NFCinteractor.com