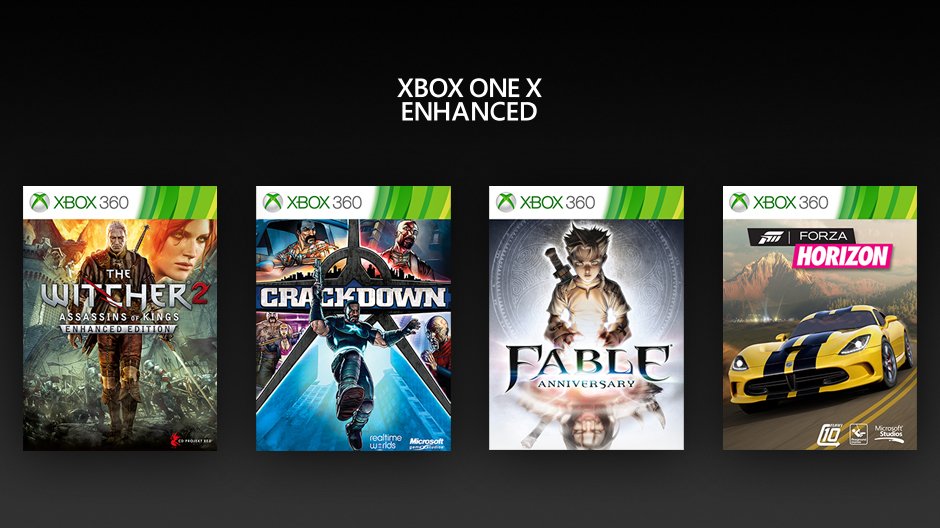 It looks like the ad appearing on Xbox's dashboard earlier today was indeed correct and The Witcher 2 will be Xbox One X enhanced. In addition, three more Xbox 360 games are joining the Xbox One enhanced club as well, and they include titles in some of Microsoft's most beloved series (via Major Nelson).
The Witcher 2, Fable Anniversary, Crackdown, and Forza Horizon—each now backward compatible—are all getting enhanced graphics for Microsoft's flagship console. This brings the total list of Xbox 360 games that are Xbox One X enhanced to 11. The full list can be read below.
The team at Xbox has also released a new graphics setting for enhanced Xbox 360 titles on Xbox One X to give you more control over your gaming experience. You will now be able to choose to play these games either in their original format or with enhanced graphics. Enhanced graphics will be turned on by default, running your game with higher resolution, 9X the pixel count, increased texture details and antialiasing. If you disable this, the game will feature graphics comparable to those on an Xbox One or Xbox One S.
Here are the steps you'll need to follow to change these settings:
Press "View" and "Menu" buttons on the controller to pull up the Xbox 360 guide
Navigate to "Settings" blade
Select "Xbox One X Settings"
Select to optimize for "Graphics" or "Performance"