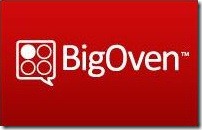 BigOven.com, the social network about food that aims to makes you a better cook, announced the beta launch of the BigOven Application Programming Interface (API). The REST-based API lets any developer build applications featuring 170,000+ recipes, tens of thousands of photos and reviews. Broad uses include new cooking applications for mobile devices (such as Android, Windows Mobile devices and more), "mashups" with existing web platforms (such as Facebook or Twitter), recipe/cooking enhancements to existing websites, and data for home automation "kitchen of the future" systems. Developers can register for the invitation-only beta at http://api.bigoven.com.
"BigOven is the first cooking website to open up our platform in this way to developers. We're excited to see what creative and useful applications emerge. We're interested in seeing BigOven services available on any device," said Steve Murch, CEO of BigOven.com.
With version 1.0 the BigOven API, developers can build applications that let users:
Search 170,000+ recipes by title, keyword and more
Display the recipes, including ingredients, instructions, and photos where applicable
Get, display and post tens of thousands of recipe reviews and ratings from BigOven members
Get public BigOven profile information
Add to and edit grocery lists
During the beta period, use of the API is free for commercial and non-commercial use. Pricing is not yet finalized, but a modest and fair transaction-based license fee will be introduced at the end of the beta period to offset server hosting costs. Other details of the Terms of Use, Branding Guidelines and Documentation are available at http://api.bigoven.com.
So windows mobile developers, we hope to be cooking soon with he results of your efforts.