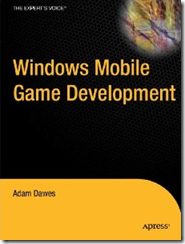 Possibly coming a little late for any significant impact, this book may still be of use for developers tasked with porting a game to Windows Mobile, which after all still has a 30 million installed base.
Adam Dawes has written a book entitled, "Windows Mobile Game Development" and which is said to contain everything that existing C# and VB.NET programmers need to know to get up to speed with developing games for Windows Mobile devices.
The content includes setting up the development environment, graphics APIs (including coverage of OpenGL ES), game timing, object management, input and control mechanisms, music and sound effects, maximising device compatibility and lots more. It specifically covers development for everything from Windows Mobile 2003 SE right up to Windows Mobile 6.5, including smart phones and all sorts of hardware diversity that a developer may encounter.
The book is currently available for pre-order on Amazon for $31.49 via Apress.
For information visit adamdawes.com.