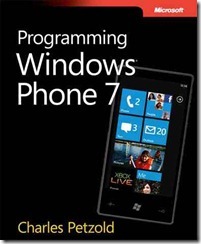 Microsoft Press has made available well known technical writer Charles Petzold's new Windows Phone 7 developer book, Programming Windows Phone 7, as a free download from MSDN.
The 1000 page book will become available later in a print version, for a free, but early birds eager to get into the Windows phone 7 application game can get started now by downloading the book right now.
The 24 chapter book covers:
Part I   The Basics

1   Hello, Windows Phone 7
2   Getting Oriented
3   An Introduction to Touch
4   Bitmaps, Also Known as Textures
5   Sensors and Services
6   Issues in Application Architecture

Part II Silverlight

7   XAML Power and Limitations
8   Elements and Properties
9   The Intricacies of Layout
10   The App Bar and Controls
11   Dependency Properties
12   Data Bindings
13   Vector Graphics
14   Raster Graphics
15   Animations
16   The Two Templates
17   Items Controls
18   Pivot and Panorama

Part III   XNA

19   Principles of Movement
20   Textures and Sprites
21   Dynamic Textures
22   From Gestures to Transforms
23   Touch and Play
24   Tilt and Play
The text is aimed at developers who know at the minimum a bit of .Net, but I believe there are millions of those out there, so the barrier to entry is not too high.
Download the book, available in PDF and XPS from this page here.