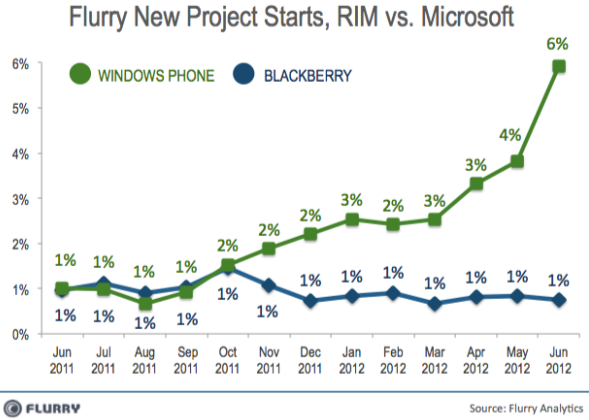 Flurry Analytics recently revealed some developer information from their network of 70,000 companies across more than 190,000 applications.
They recently revealed that for every 1 app on Android, 4 were started on iOS.
Today they looked at Windows Phone, and as can be seen from the graph above, the OS has seen increasing developer interest over the 12 months, with growth of 600% YoY in apps started on the platform.
6% of all new projects are now started on Windows Phone in June, meaning one Windows Phone app is being started for every 4 Android apps, a number which Flurry calls "over-indexed" saying:
Considering the first chart in this report, Microsoft growth has been accelerating within Q2. If we look at just Android and Microsoft in the month of June, for every Windows Phone new project started, 4 have been started for Android. Considering the much smaller Windows Phone installed based compared to Android, Microsoft is currently over-indexing. From Google's point-of-view, this must elevate Microsoft from an "also-ran" to a potential competitive threat with the resources and know-how to kick-start momentum and mount a campaign to reel in the second place player.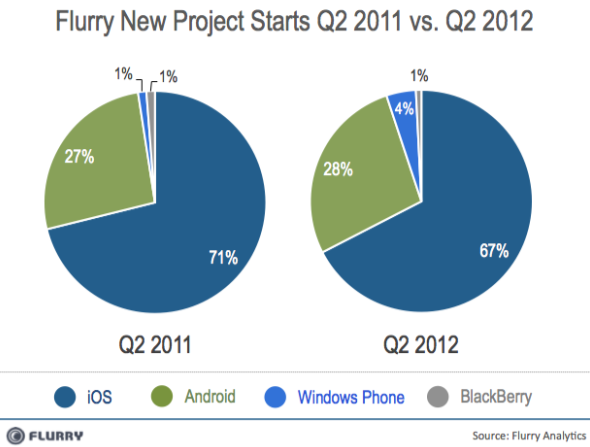 Comparing Q2 2011 to Q2 2012, we can see Windows Phone eating into the pie. Growth rates per platform for year-over-year growth were: iOS 66%, Android 82%, Windows Phone 521%, BlackBerry 13%, with Flurry saying "Viewing the relative growth rates show just how much Microsoft is gaining against the market."
They conclude:
Generally, Windows Phone could be gaining against the entire market as a result of developer frustration for Android fragmentation, concern for increasing competition on iOS and a lack of faith in BlackBerry. Whatever the reason, it's clear that Microsoft still knows how to attract third party developer support. With its Nokia-partnership and high anticipation around today's Microsoft Tablet announcement, Flurry expects Microsoft to make continued headway over the course of 2012.
Seems that 3rd ecosystem is gaining ground after all. Google may need eyes on the back of their heads soon.