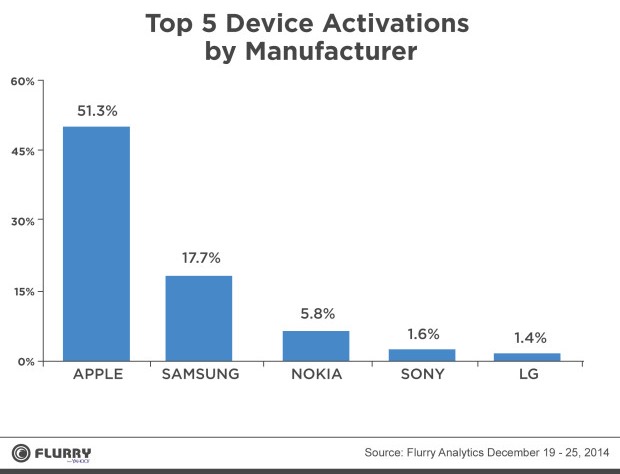 Flurry has been analysing the activation of smartphones and tablets between the 19th and 25th December this year, and according to their data, which is based on apps using their tracking technology, Nokia/Microsoft Mobile is doing pretty well this holiday season, with 5.8% share of all activations.
While that is far off Apple and Samsung's numbers, it is more that Sony, LG, and the next few OEMs combined.
Geekwire warns however that Nokia/Microsoft Mobile may have benefitted from sales acceleration in the west, while the 25th does not have a particular sales meaning in the East. Also Windows Phone users may just be more likely to download and use apps, which would also explain Apple's disproportionate share of activations. The IDC put Windows Phone's market share at about half, or 3% in Q3 2014.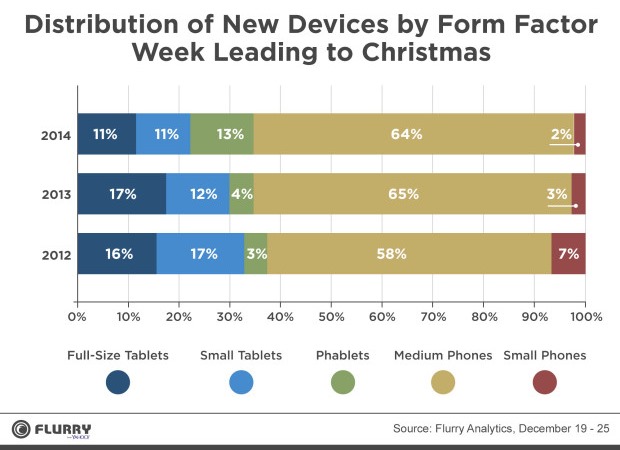 Overall phablets also gained market share while full-sized tablets lost market share.
Did any of our readers add to this statistic and receive a Windows Phone this Christmas?
via Geekwire.