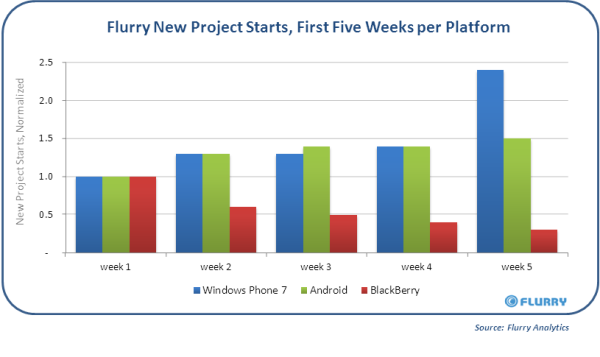 Gamerlive.tv reports that developers were already boosting game development for Windows Phone 7 in anticipation of the Nokia deal to adopt Windows phone 7.
This information is via Flurry, an company who provides online tools for developers to monitor how and when their application is being used.  Flurry tracked new application starts within its system recorded when a developer adds the Flurry SDK to its pre-release application.
The analytics company found that there was a 66% increase in the number of games and apps started last week, compared to the week before.  They note the only new news had been the increasingly strong rumours of the Nokia/Windows Phone 7 deal.
Peter Farago, vice president of marketing at research firm Flurry, said "Since we only began Flurry Analytics support for Microsoft Windows Phone 7 five weeks ago, we went back in our records to ensure what we were seeing was not an aberration," said Farago. "For an apples-to-apples comparison, we studied Flurry new project starts for the first five weeks of support for each of the following platforms: Android, BlackBerry and Windows Phone 7. We then normalized the measurement to show a relative vs. absolute comparison (percentages vs. actual numbers)."
He notes, from Flurry's point of view, this week's spike in Windows Phone 7 developer activity shows that developers not only believe Nokia has given Microsoft Windows Phone7 a shot in the arm, but also that Nokia and Microsoft together can build a viable ecosystem.
"With spiking support for Nokia and Microsoft, developers are showing us they believe."
The graph above shows the relative pace of increasing developer use of Flurry's Analytics package in the first 5 weeks of their coverage by Flurry by platform, and it is interesting for a number of reasons.  The first is of course that it shows a steady increase in developers starting new projects on Windows Phone 7, which suggests the linear "100 apps per day" will soon see an increase itself, the second is that the rate of increase until before the Nokia announcement matched Android, which I think most will agree has become a successful app platform, thirdly that Blackberry was not so lucky, with developers seemingly abandoning the platform – clearly not a successful app platform and one which the Windows phone 7 marketplace will likely overtake shortly.
The last is of course the tremendous boost seen even before official confirmation of the Windows phone 7 deal, which came at the very end of the business week.  I suspect the boost will now be even larger this week, now that the deal, which is even more massive in scope than previously suspected, has been confirmed.
"While Android ultimately became a vibrant platform, it's also important to note the relative drop off in BlackBerry's project starts over the same initial period," added Farago. "It appears that developers voted down BlackBerry as a viable third contender to Apple and Google in the first five weeks of Flurry's support. Months later, the market proved these developers right."
To date, 38,000 companies have created projects using Flurry.
Read more at Flurry here.