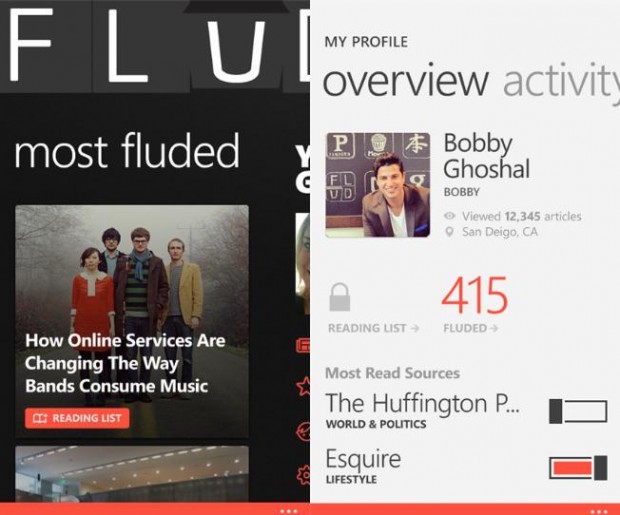 Flud Social Reader for Windows Phone is now live in marketplace. I just tried the app and I was impressed with its design. Even though there are some performance issues like lagging while swiping between news sources, the app works well as expected. Give it a try!
App Description:
Introducing a new kind of social news reader. Flud is a place where everyone has a news personality. For the first time ever, the things you read about give you topical credibility among your friends and followers. Beautiful design, simple user interface, and integrated social features make Flud the best place to read your news.

Customize Flud to your personal tastes. Follow all your favorite blogs and news sites, save stories to read when you have time or offline, Flud articles you love, connect with friends and other Fluders who share your interests. Your Flud profile allows you to discover your news personality and become a credible source of information.

Features
– Find Fluders who share your interests in news, blogs, and topics
– Flud articles you love and share them with your followers
– See what your followers are reading with the Activity Feed
– Access your Reading List wherever you are, no Internet required
– Easily add, reorder, or remove feeds
– Connect to Google Reader, Twitter, and Facebook
Download the free app here from marketplace.
via: Gowindowsgo