Just a few weeks ago, Flipboard for Windows Phone appeared on the Windows Phone Store as a private beta. Flipboard for windows Phone comes with the same features which are available on the Android and iOS versions. You'll need to setup your profile and that's it. Unfortunately though, it doesn't support Windows Phones with 512MB RAM. The app description states:
Flipboard is a place to collect stories you like or want to share with others. When you find articles, videos orphotos that interest you, use the + button to save it into your own magazines. Build magazines on any topic, from Great Hikes to Gear & Gadgets.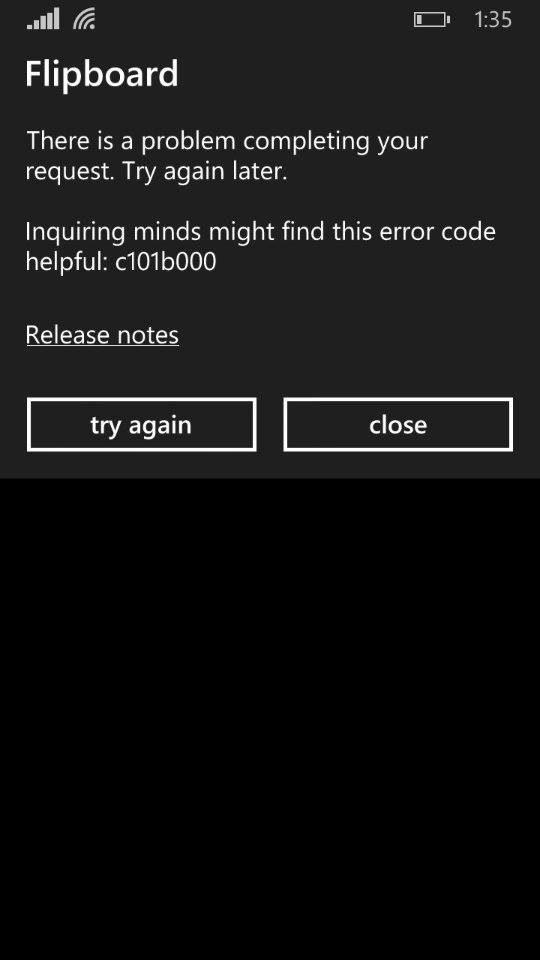 It's worth noting that the app took a long time to arrive on the Windows Phone store. It was launched on Android and iOS back in 2012 and after almost 2 and a half years, it is finally here.
The app is live right now and you can grab it from here.
UPDATE #1: We're unable to install the app and received the "c101b000" error. It seems like the app isn't available for everyone just yet. We'll keep you updated as soon as we're able to install the app.
UPDATE #2: We're able to install the app over cellular data. If you're unable to install it on Wi-Fi, try to install it over cellular data.
UPDATE #3: You can now install it on both cellular data and Wi-Fi.
Update #4:  Flipboard has admitted the app that was released to the public was  an "incomplete" placeholder, and the app has now been pulled from the Windows Phone Store.
@jamesofilmiont This is not the official release. That was an early, incomplete build staged on the store as a placeholder.

— Jon Virtes (@FlipboardCM) September 25, 2014
In many ways this is good news, as my first reaction when using the app was certainly "I waited more than a year for this?" Do our readers agree?