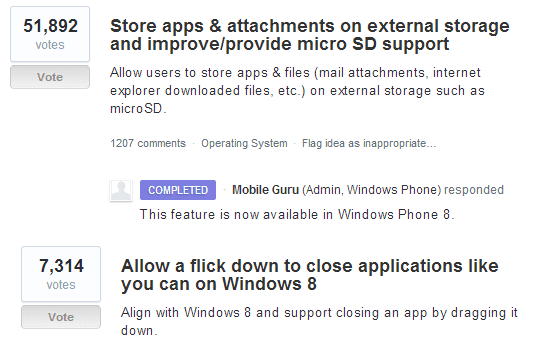 Microsoft has been marking more features off as completed in the Windows Phone user voice site.
The latest to be added is the request to store apps and attachments on external storage and the ability to close applications by dragging them down, like on Windows 8.
Recent accurate leaker Nazwil has claimed on twitter that the File Manager, also confirmed today, will be coming to all Windows Phones as part of an update in Q2 2014. Whether this will present the launch of Windows Phone 8.1, or if these are just GDR's for Windows Phone 8 remains to be seen.
He writes:
File Manager is coming with Windows Phone 8.1 update that will be released to all #WP8 phones in Q2 2014. #FileManager #WindowsPhone8.1

— Nawzil (@Nawzil8) December 2, 2013
The changes are however relatively exciting, as it has the potential of significantly changing the user experience of Windows Phone users to a more open model somewhat closer to Android and Windows Mobile of old, rather than iOS, which is increasingly appearing closeted and outdated.
Thanks Farooq, Windowsphoneapps.es for the tips.