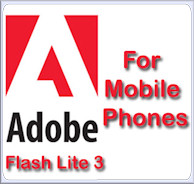 The wires have been abuzz about the news that Adobe is bringing a mobile Photoshop client to Windows Mobile by the end of September. Its also known that the client will be based on Flash. What I have not seen anyone do so far is connect the dots.
FlashLite 3 has been 'available' for Windows Mobile for some time, but so far no Windows Mobile OEM has seen it worth the trouble to license it for their handsets. Adobe however has run into trouble trying to get their technology on the run away popular platform, the iPhone. The only logical conclusion, if Adobe were to maintain their smartphone presence, especially in USA where Nokia is nearly non-existent, would be therefore to release a free client for Windows Mobile. The need for this is particularly urgent, seeing how Microsoft is planning to release Silverlight for Windows Mobile towards the end of the year or early next year. If Adobe does not get a Windows Mobile foothold soon they may miss the window of opportunity completely, and effectively have no mobile presence in USA at all.
The news therefore that they are releasing their Mobile Photoshop client, which will allow light editing and automatic uploading to their Photoshop.com service, can only indicate a wide release of the technology to Windows Mobile handsets. The presence of a diverse series of OEM's (Samsung, Motorola and Palm) suggests against an exclusive deal, and Adobe would never build their flagship mobile client on outdated technology like Flashlite 2.1 or Flash 7 for Windows Mobile.
We should therefore look forward to a more full web experience very soon indeed, allowing us to use the "Real Web" as never before.