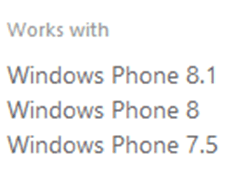 It appears Microsoft is readying the Windows Phone Store for Windows Phone 8.1, as reddit reader doubleaykay is claiming to have seen apps which claims compatibility with the updated OS.
Crucially one of the apps was last updated in 2013, making it likely that most developers will not need to modify their apps to make then "windows phone 8.1 compatible."
Unfortunately the "works with Windows phone 8.1" moniker has now disappeared from the store, at least when I am looking, making it likely that doubleaykay merely caught some testing going on.
It is however another clear sign, not that we need any more, that the OS is getting pretty close to release, with most expecting to see it demoed at BUILD 2014 in less than 3 weeks.