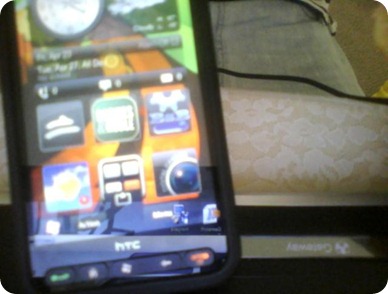 Well it seems I am the last person on WMPoweruser to receive an HD2, but at least I have it now. The device came in the mail courtesy of Ebay and their no taxes Yesterday. I bought the device for $480, and did not receive the 16GB memory card, which means no Megan Fox, and that's just cold. If anyone wants to send me the files on their SD card that T-mobile included, like just copy, paste and RAR the files in tacked and ill add it to my memory card and begin watching Mrs., Fox. That would ROCK.
Back to my first impression. When I took it out the box, the device put a huge smile on my face. I mean DANM, the huge screen just made my day bright. The Thinness was incredible, and the metal back felts great in hand.
The software was not as awesome as I hopped, but how would I know, the second restart the phone received was the one of the ROM I installed (remember,I am a  flashaholic.) I have LMT installed, and already begun showing off the device to some people, and they are all hating.
After a day of excitement, I have to say, I am a little disappointed. I heard so much good things, that my expectations for the device was out of this world, but I guess that's why you shouldn't expect too much than it is possible. I do not think it's the devices fault, I am have used too many smart phones that everything is just about the same to me now. The camera reminds me of the Droid, and so does the thinness. The speed reminds me of the Pixi, because nothing slows it down. The screen sensitivity is also in the Droid category. But one thing that no other device I have used has is… The 4 inch screen, it is just the best, and with swype keyboard, it rocks. LMT also works perfect on this device and is super fast to text. I can text 2X as fast as I did with my Touch Pro2's keyboard. I also love how smooth it is and sensitive.
Well that's what I got from my first day of the HD2. I can say it's a great device. I cannot say it will be my personal device for the next 6 months, but it will last at least 4 months, I am currently eying the Toshiba K01, and should be getting the Incredible and Evo4G soon. Hopefully everyone that owns their HD2 loves it, because I sure do, and think HTC is plainly the very best when we are talking Windows Phones (Until the K01 comes thought).
If you have any questions for me(even though this device has been out for about 6 months now,) please ask, and ill be happy(to an extent) to answer.
If you are kind enough to RAR your T-mobile HD2 files like apps, and whatever else your 16GB card has in it…. please Email me at [email protected], and that should be all.