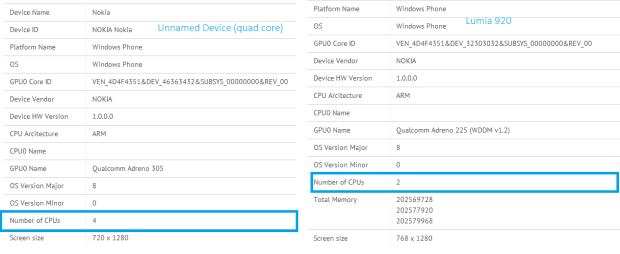 We knew it would arrive eventually, but now we have proof.  The first  Quadcore Windows Phone has just shown up on benchmarking website GFXBench.
The entry clearly shows the mystery Nokia Lumia has 4 cores, and runs Windows Phone 8.
It also reveals the screen is still 720, not 1080P unfortunately, but I am sure that will come eventually also.
Unfortunately there is no 720P Windows Phones with the Andreno 305 CPU in GFXBench's database, so we can not directly compare the benefit of the increased processor power.
The Nokia Lumia 620 does however the Adreno 305 processor, and the data does show the Quadcore processor does result in a very significant boost in benchmarks.
In terms of 1080P off-screen fill, the NL 620 scored 152 MTexels, while the mystery handset scored 702, more than 4 times as much.
For textured triangle throughput on a virtual 1080P screen off-screen, the NL 620 scored 17 MTriangles, while the Quadcore handset scored 48, nearly three times as much.
Of course with such an excess of power one wonders what a Windows Phone would do with it, but I am sure games and browser rendering will both be significantly snappier.
The entry can be seen at GFXBench here.
Via AndroidWin.com and Reddit.com