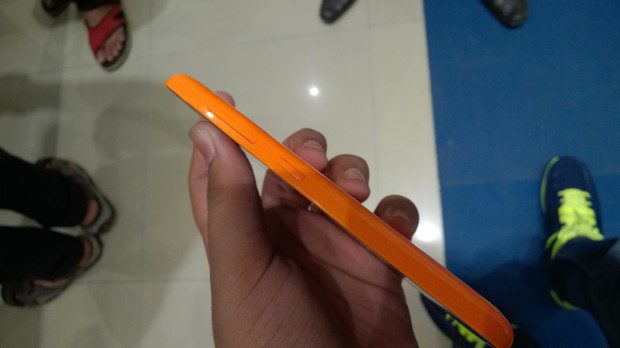 Microsoft Mobile came out with their first "Microsoft" branded device on their November 11, 2014 #MoreLumia event. The device was nothing but the Microsoft Lumia 535, a phone which is light on the wallet but heavy in the features packed in a 8.8mm package.
We were quite lucky to get to play around with the device for 15 minutes which gave me ample time to see what is new and compile my first impressions on this device.
Brief specifications
 Display: 5″ IPS LCD 960×540 qHD with Sunlight readability and Corning Gorilla Glass 3
Front Facing Camera: 5MP
Rear Camera: 5MP
RAM: 1GB (1024MB)
OS: Windows Phone 8.1 Update with Lumia Denim
Storage: 8GB Internal, expandable to 128GB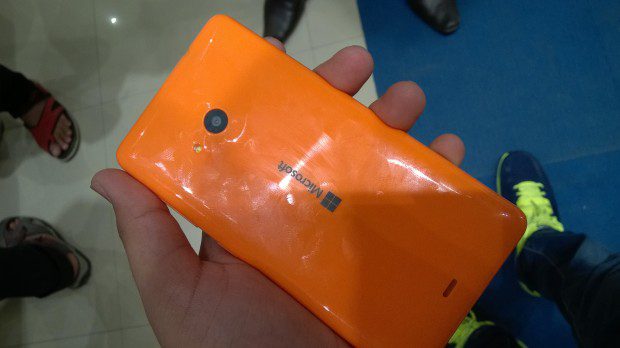 First impressions
In my 15 minutes with the device, I compiled a list of First Impressions of the device by testing responsiveness, quality and performance.
Firstly, we can go over the build quality of the device. The device which I was allowed access to was a glossy Bright Orange colour which was an extreme fingerprint magnet as seen in the above pictures which is sad unless you buy the Matte colours of the phone (Cyan, White and Black)
Secondly, the phone seems reinforced and durable just like any other Microsoft Mobile device.
The phone is averagely thin in its thickness (at 8.8mm) which is always a good thickness for a Lumia device
The display was decent with a qHD display at roughly around 220ppi pixel density.
I had a test with the primary and secondary camera, and the pictures produced were decent for a 150$ price tag.
The phone is priced at $150 which gives it a decent price tag for the features that are being offered with this package
For those who are interested in the device and are waiting for our review, we are almost close to getting the device in our hands so that we can do a comprehensive breakdown of Battery life and in-depth performance. The device is expected to come in hands with the WMPowerUser team early December (not sure)