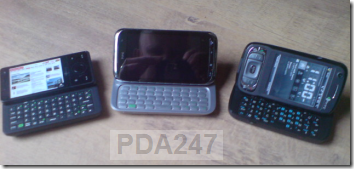 Actually more a first impressions article, the first part of PDA 24-7's review of the HTC Touch Pro 2 has just been published.
Parts that are of particular interest may be:
A quick play with the keyboard suggests that it is 'very' good. Strangely, it provides little feedback or travel and shouldn't really work well, but it most certainly does and I was typing away in under a minute with no errors.
All in all the Touch Pro2 is a special device to look at and to use in the first few minutes. The quality shines through and there is a genuine feeling of value, even at just over £500.
Other observations in the first few minutes are that the speakerphone is excellent- I tested it on a couple of calls and it is comparable to the Bold for quality. The external speaker is also quite loud and suitable for showing people videos and music outdoors. System speed is impressive and everything snaps along at a decent pace.
Shaun concludes:
I can safely say that my first impressions are more than positive, and that this phones could put my faith back into Windows Mobile which has been seriously lacking of late.
Read the full review here, and keep an eye on PDA 24-7 for part 2 tomorrow.