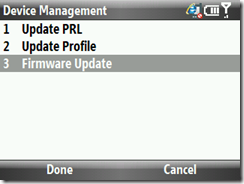 Sprint's version of the HTC Snap is not our favourite, but it seems to have one feature which is pretty interesting.
WMExperts discovered if you look under Settings –> Device Management, you can see a Firmware Update option which appears  be functioning. The feature uses "FUMO" (Firmware Update Managed Object, more here) and appears to be checking  with a server, eventually responding with "No firmware update is available".
Whether this feature will be used remains to be seen, but the coolest implementation would be a push Windows Mobile 6.5 update, wouldn't it?