Chrome recently adopted support for the Windows 10 Action Centre for web notifications, and now the Firefox browser has started testing the feature also in the latest Firefox Nightly builds.
According to a post on Firefox's Bugzilla, the feature will be rolled out to Firefox 64.  Reportedly it will replace the usual pop-up banner system, with no option to go back to the older system.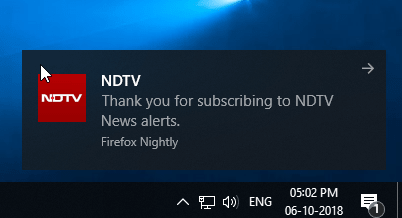 Web notifications have become increasingly important as web apps replace our usual desktop apps to get work done, and such integration with the desktop OS's features means a more consistent and seamless user experience. Having notifications run through the OS will also mean features such as Focus Assist and notification mirroring would work more reliably. Hopefully using the Windows 10 Action Centre will now become the default method for showing notifications to Windows users, rather having each company reinvent the wheel each time.
If you want to try the feature today you can download the latest Firefox Nightly here.
Source Techdows, via Windowslatest