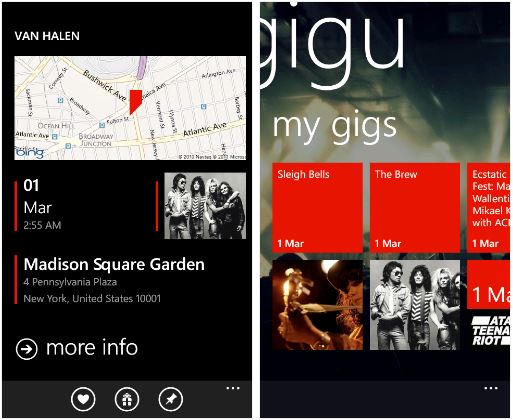 Nokia Music app allows you to find the gigs happening around you and this app Gigu which is open for all Windows Phone devices also lets you do the same but a lot more than that. Find the app features below.
App Description:Â 
Are you a music lover? If so, you probably also like to watch live bands play. Ever wondered if somebody you like is playing near your town in the following weeks? Do you like to discover new bands just for fun? Are you a fan of an artist and want to know what he/she has been up to, or what concerts will be held soon? If your answer to any of these questions is yes, then this is the right app for you!

These are some of the features that Gigu provides:

* Never miss a gig in town! Find gigs in your town: know who, when and where bands are playing

* Keep track of your favorite artists and upcoming gigs

* Discover new bands

* Browse through artists' bios, upcoming gigs and top albums
Download it here from the marketplace.