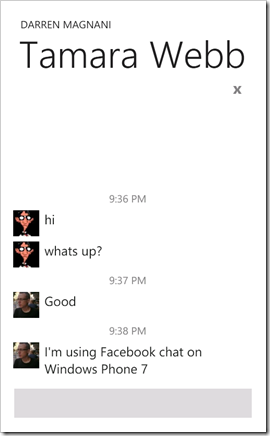 Recently, Fim, the only Facebook Chat app on WP7, mysteriously disappeared from the Marketplace (likely because the app was having issues actually sending/receiving instant messages), but it reappeared on 12/8/2010 working perfectly with a number of great new features!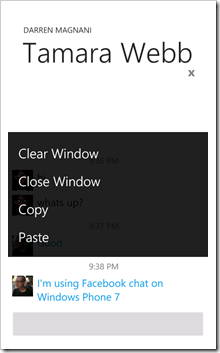 First, the keyboard/messaging interface was streamlined so that you only have to click Enter on the keyboard to send a message.
Second, they added a "Person is typing…" notification at the top of the screen, which helps greatly when chatting with multiple people. However, this feature sometimes lags and may not work perfectly.
And finally, they included something even Microsoft hasn't yet, Copy and Paste! That's right. In a conversation, you can tap on however many messages in your chat to select them, and then long press the chat screen to bring up the copy menu. After copying your messages, long pressing the text entry box will bring up the paste menu.
Fim Facebook Chat can be found in the Marketplace, and it is free!