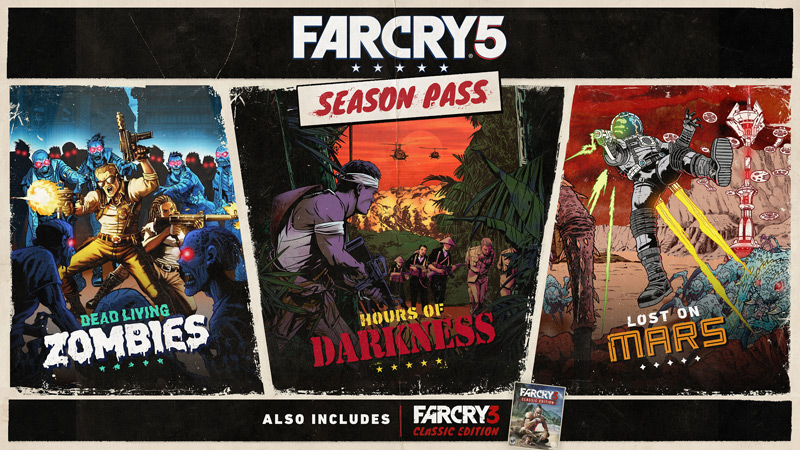 Ubisoft has revealed the contents of Far Cry 5's Season Pass and among the various expansions is Far Cry 3 Classic Edition.
Far Cry 3 Classic Edition will only contain the game's single-player according to Ubisoft. If you don't want to buy the Season Pass in order to revisit the Rook Islands, Far Cry 3 Classic Edition will be available as a standalone purchase this summer, four weeks after Season Pass holders get it. Fortunately for those who already own Far Cry 3, the 360 version is also backward compatible on Xbox One.
The rest of the contents of the Season Pass take you on three very different adventures. As detailed by Ubisoft:
"The Far Cry 5 Season Pass includes three new adventures that transport you to three distinct locations, starting with Vietnam, where you battle the Vi?t C?ng in Hours of Darkness. That's followed by Dead Living Zombies, which as its title suggests, pits you against zombie hordes in a variety of B-movie scenarios. Finally, in Lost on Mars, you'll leave Earth behind to battle arachnids on the Martian surface."
These appear to be just as wacky as Far Cry 3: Blood Dragon, so hopefully they live up to its example. More details will be revealed about each expansion at a later date.
Far Cry 5 launches on March 27 for Xbox One, PlayStation 4, and PC. You can pre-order it from the Microsoft Store for $59.99. It is set to be Xbox One X enhanced.