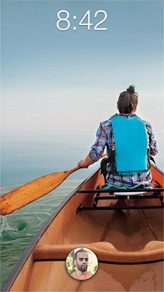 Bloomberg reports that Facebook is in talks with both Apple and Microsoft about porting its new Home Android launcher.
"We've shown them what we've built and we're just in an ongoing conversation," Facebook director of product Adam Mosseri said in an interview.
Regarding the iPhone, he noted that the full product may not make it to the platform.
"We could also just bring some of the design values to the iOS app. That might be how it ends up. Or we could build just the lock screen," he said.
Presumably the same would apply to Windows Phone, though one wonders how flexible Microsoft would be willing to be.
Mosseri  noted that no formal agreement has been made.
Do our readers think Microsoft is willing to compromise their design vision of Windows Phone for this app? Let us know below.
Update: Citing unnamed sources"inside Facebook familiar with the discussions"  The Next Web claims Facebook is not in fact in talks with Apple or Microsoft.
"We've been told that while the company has good relationships with both Apple and Microsoft, right now no discussions have taken place to bring Home to those platforms," they said.
Via TNW.