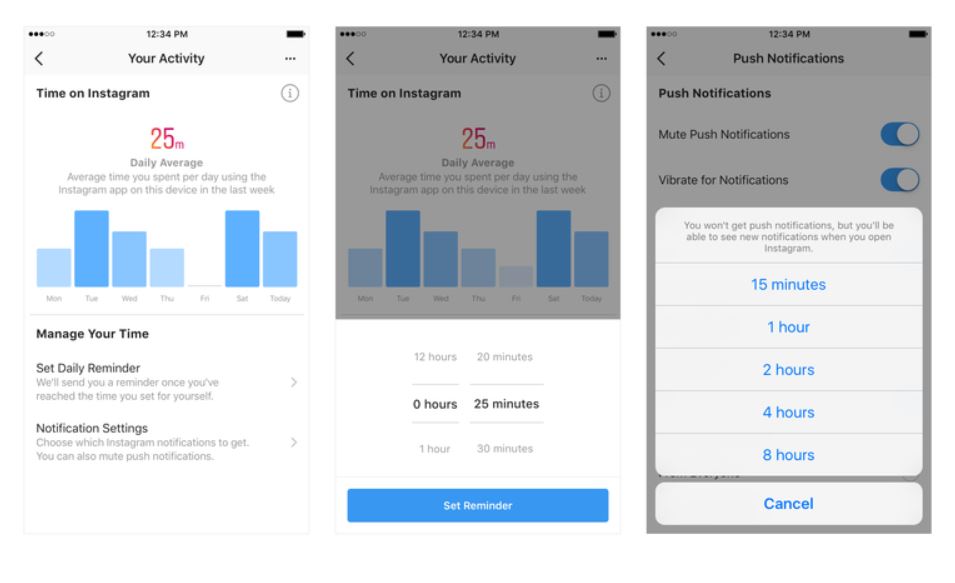 Facebook today announced new features for people to manage their time on Facebook and Instagram apps. Facebook partnered with leading mental health experts and organizations, academics, its own extensive research and feedback from the community to develop these features. The new features include an activity dashboard, a daily reminder and a new way to limit notifications. Read about them below.
You see a dashboard showing your average time for that app on that device. Tap any bar to see your total time for that day.

Y

ou can set a daily reminder to give yourself an alert when you've reached the amount of time you want to spend on that app for that day. You can change or cancel the reminder at any time.

You can tap on "Notification Settings" to quickly access the new "Mute Push Notifications" setting. This will limit your Facebook or Instagram notifications for a period of time when you need to focus.
"We have a responsibility to help people understand how much time they spend on our platforms so they can better manage their experience," wrote David Ginsberg, Director of Research at Facebook.  You can access these tools from settings page of both Facebook and Instagram apps. Facebook will soon roll out these features to users globally.
Source: Facebook