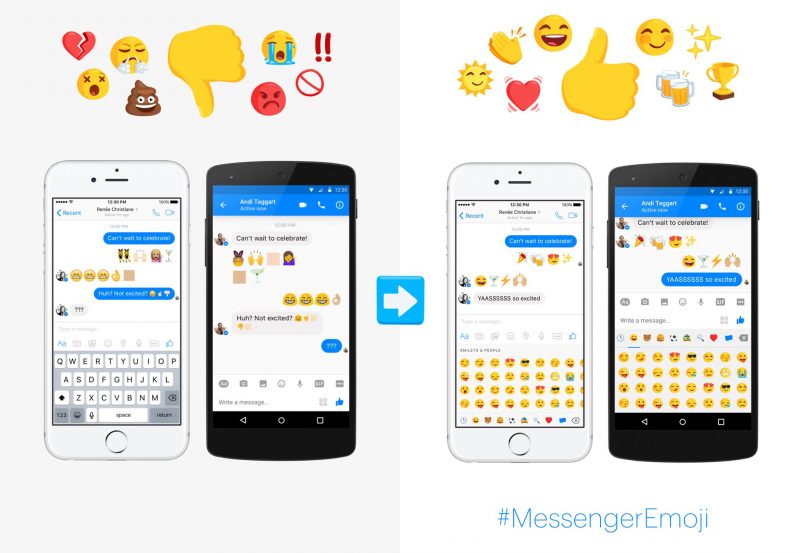 Want some diverse emoji? Everyone's doing it nowadays, and Facebook is no exception to the trend.
In a new post on Facebook, Facebook announced it's diverse emoji initiative for Android, iOS and "other platforms" . Much like the diverse emoji Microsoft implemented for Windows 10 and Windows 10 Mobile, Facebook now lets you choose the racial skin tone of the emojis used in conversation.Unlike Microsoft and Apple however, it also now diversifies the emoji roles, adding women in places like police officers and so on.
Don't worry if your OS doesn't support all these new emoji, much like WhatsApp, It will also now unify the emoji used across platforms, so everyone can see the same emoji on their devices .
Messenger is addressing emoji woes by rolling out a new set of standardized emojis so you can be sure you're sending the right message. No matter what emoji you pick, it will now look the same for all Messenger users, regardless if the recipient is on Android, iOS or another platform. In other words, no more broken-looking black boxes or emojis that just don't make sense. Our characters are consistent every time you use them, no matter what platform the recipient is on.
We're not sure if these new emoji will make their way down to Windows 10 PCs soon, but given that Facebook kept on talking about "other platforms" instead of simply "the web" as well as the fast roll-out of the Instagram app for Windows 10, we're positive that the new emoji update should roll out to users soon. If not, there are a host of Facebook Messenger apps for the store that merely reflect the web version of the app.
You can download Facebook for Windows 10 and Windows Phone 8.1 below from the store link with the Windows 10 Mobile version expected this summer.