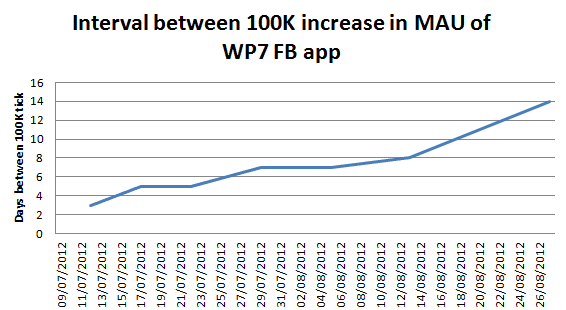 We keep a close eye on Facebook data, which provides a good proxy of the number of Windows Phone users out in the wild.
There has just been another 100,000 Monthly Active User tick for the official Facebook app, this time taking nearly 14 days, significantly up from the 8 days it took for the last tick.  The data shows that this increase has been a trend for some time.
Official FB app
Days between

 

100K increase
09/07/2012
2400000
 
12/07/2012
2500000
3
17/07/2012
2600000
5
22/07/2012
2700000
5
29/07/2012
2800000
7
05/08/2012
2900000
7
13/08/2012
3000000
8
27/08/2012
3100000
14
The data suggests Windows Phone sales in Q3 2012 will not be setting any records, though a very good July may end up saving the day. Of course with most handsets announced nearly a year ago and a new wave of phones expected to be announced soon it is no surprise sales will be tending to a nadir, with a big boost in Q4 2012 coming with new Windows Phone 8 handsets.