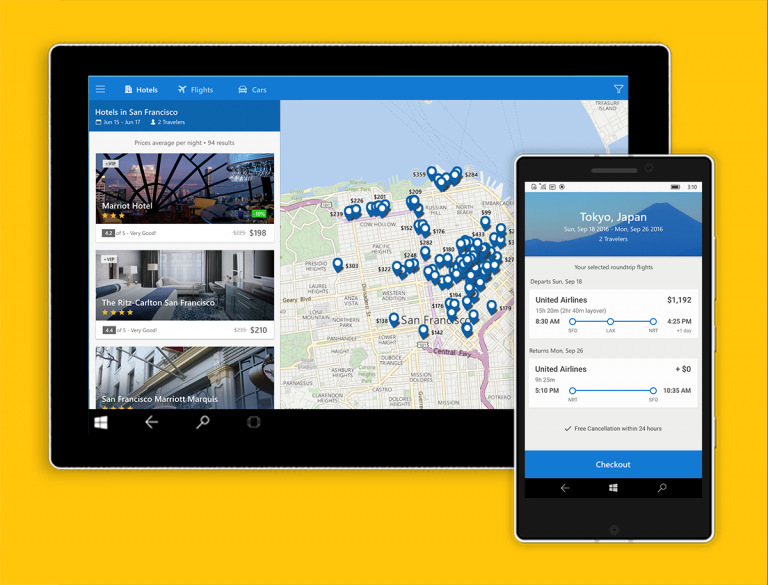 Expedia has announced a new Universal Windows 10 app for phones and PCs.
The updated app brings an optimized experience to Windows 10, featuring travel tools and features that make planning and booking your next vacation faster and easier than ever, offering Windows 10 customers a straightforward and seamless way to browse and search Expedia's selection of flights, hotels, and rental cars on Windows 10 phone and PC devices, and book trips with just the tap of a finger.
The new Expedia app for Windows 10 was built on the Universal Windows Platform so customers can take advantage of exclusive and enhanced Expedia features designed to improve the travel experience for Windows 10 devices.
The app features:
Update for Windows 10: The Expedia app has been specifically enhanced to take advantage of all the unique possibilities of Windows 10 to deliver a more seamless travel experience across Windows 10 devices. We've also made key performance improvements and enabled faster launching for our Universal Windows Platform app.
Search with Cortana: With Cortana integration, you can book trips with simple, natural conversations and get helpful travel notifications and status updates for all of your upcoming Expedia-booked trips.
Interactive Device Notifications: Receive important travel alerts and changes to your itinerary with Expedia emails.
Deeper Integration: The new Expedia app is native to the Windows platform, which gives our team tremendous opportunity to further enhance the Expedia experience on Windows 10 devices.
"Microsoft is excited to work with Expedia to make travel planning and booking easier and more integrated on Windows 10 devices. With the new Expedia app, customers will discover a simplified, more secure travel planning and booking experience that is consistent across PC, tablet and mobile. Customers will also receive up-to-the-minute travel alerts and updates in a radically convenient way," said Dave Mendlen, General Manager, Windows Experiences, Microsoft.
"We've had a long-standing relationship with Microsoft since the early days of Expedia helping millions of people plan and book travel, and stay connected with important trip information throughout their journey. With Windows 10 running on over 300 million devices worldwide, we're excited to continue to offer Expedia customers and travelers around the world a better, faster and more intuitive way to plan, book and experience travel across any device," said Jerald Singh, Head of Mobile at Expedia.
The Expedia app for Windows 10 is available for download today in the Windows Store.